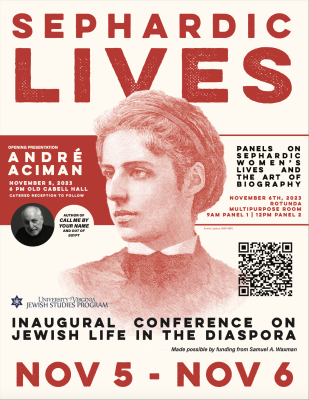 The term "Sephardic" literally refers to the descendants of Jews expelled from the Iberian Peninsula, an area in southwestern Europe including Spain and Portugal, in the late fifteenth century. Yet the term has come to encompass Jews with roots in the Mediterranean Basin and the Middle East more broadly. Today, Sephardic Jews form a modern diaspora that spans Argentina to Morocco, Turkey to France, and the United States to Israel. This conference highlights the biographies of little-known Sephardic historical figures, particularly women, from the past two centuries – including fashion moguls, fiction writers, and armed nationalists. 
Tracing the life stories of such individuals allows us to rethink important themes in the histories of modern Jews, the Mediterranean, and the world. We will explore questions such as: How do the migration routes of Sephardic Jews intersect with those of other diaspora groups, such as Christians and Muslims in the Ottoman Empire? How did Sephardic Jews maintain distinct traditions (such as the Judeo-Spanish language, Ladino) while integrating into new local settings? How did Sephardic Jews in different parts of the world facilitate trade between and within empires? What were the fates of various Sephardic communities in the Holocaust? What role did Sephardic Jews play in Zionism and other forms of Jewish nationalism? And how might the art of biography, as a form of storytelling, offer new insights into these frequently neglected histories?
---
André Aciman Opening Presentation
November 5th  |  Old Cabell Hall  |  6 PM
Join us for an exciting keynote presentation by the renowned author, André Aciman! Aciman is the author of bestselling novels, essays, and memoirs, including Call Me By Your Name, Out of Egypt, and Harvard Square. Aciman has written extensively about his own Sephardic family history in Turkey, Egypt, and Italy, and his talk will combine personal stories with a broader discussion of the Sephardic Jewish diaspora in literature and history.
Schedule
6:00pm Keynote: André Aciman, "Sephardic Jews and the Question of Multiple
Identities" 
Catered reception to follow.
---
Panels on Sephardic Women's Lives and the Art of Biography
November 6th  |  Rotunda Multipurpose Room
9 AM Panel 1   |   12 PM Panel 2
The panels of this conference will focus on Sephardic women's lives, which rarely get told as biography, and ask: What might these stories teach us about modern Jewish history, histories of the Mediterranean, and global history? And how can biography provide new insights into these oft-neglected histories?
Schedule
9:00-11:00

Opening Remarks & Session 1:
Moderator: Jessica Andruss (UVA)
Julia Phillips Cohen (Vanderbilt University): "Madame Luna's Mediterranean" 
Devin Naar (University of Washington): "An 'Oriental Jewess' on Strike and the Fate of US Labor Law in the Early Twentieth Century"  
Canan Bolel (University of Washington): "No Place for Mazalto: Female Insanity and Asylum Overcrowding in Late Ottoman Istanbul."
12:00-2:00

Session 2: 
Moderator: Caroline Rody (UVA)
Hanan Hammad (Texas Christian U): "Layla Murad as an Ordinary Egyptian Woman" 
Devi Mays (University of Michigan): "Between la Belle Fatma and Rachel Eny, or the Life of 'the Most Beautiful Woman in the World'" 
Caroline Kahlenberg (UVA): "'The Girl with a Bomb in Her Basket: Mizrahi Jewish Participation in Mandatory Palestine's Jewish Underground"   
2:00-2:45

Closing discussion  
---
Sephardic Culinary Workshop
November 9th  |  Student Health Teaching Kitchen  |  5 PM
In this hands-on workshop, we'll cook a Sephardic dish with the chefs of JewFro, a Richmond-based restaurant that combines Jewish foods and African flavors. As we prepare our dish, we'll learn about the history of Sephardic cuisine and JewFro's mission to encourage cultural exchange through food. At the end of the evening, we'll enjoy the dish together! 
This event has limited space, and signups will begin October 27th.